Unwind with the Best: Explore Our Top Picks for Craft Cocktail Spots in Greenville
Greenville's vibrant cocktail scene is not one to miss. These venues serve more than just mixed drinks; they offer crafted experiences. Each of our top picks boasts skilled bartenders or mixologists who curate flavorful blends, going beyond the standard spirit and mixer combination. Each cocktail is a symphony of flavor, designed to enhance your dining experience. Whether it's the middle of a bustling afternoon or a quiet evening, these locations promise an unforgettable cocktail experience. If you think we've missed a hidden gem, let us know! For beer enthusiasts, don't forget to check our "Great Places To Grab A Cold Beer In Downtown Greenville" guide.
The Anchorage
Located a few minutes from Downtown in the Village of West Greenville, The Anchorage (@theanchoragegvl) serves fabulous craft cocktails alongside small plates and a fantastic selection of wines. This beautifully decorated restaurant and bar promises a feast for both the eyes and the palate.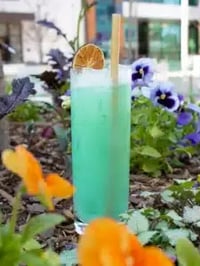 Camp Modern American Eatery
Nestled in the heart of Camperdown Plaza, CAMP (@campgvl), Table 301's latest culinary venture, offers a menu of unique dishes and custom cocktails. With indoor, outdoor, and rooftop seating options, you can enjoy their fantastic offerings while taking in the bustling plaza activity.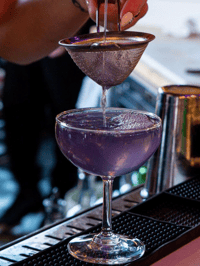 Golden Brown & Delicious
Raise a glass to Greenville's newest cocktail hotspot: the bar at Golden Brown & Delicious. Located in The Commons at Unity Park, this trendy spot is ready to serve up creative concoctions in their stylish new space. Whether you're wrapping up a day in the park or kicking off an evening downtown, Golden Brown & Delicious provides a welcoming atmosphere to relax, mingle, and sip on something delightful.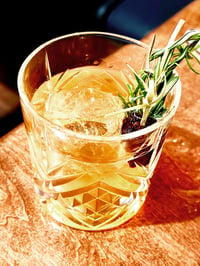 Jones Oyster Company
Embrace the flavor of the sea at Jones Oyster Company. Recently opened, this spot has quickly risen to become one of our favorite places for raw or fire-grilled oysters in Greenville. But it's not just about the seafood here; their cocktail menu is as impressive as their oyster selection. Each drink, carefully crafted and beautifully presented, is a refreshing accompaniment to their savory oysters.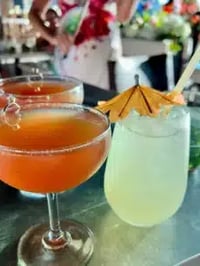 Juniper
Experience a different world at Juniper (@juniper.gvl), perched on the top floor of the new AC Marriott downtown. The ambiance alone is worth a visit, but it's their remarkable cocktails that truly stand out. A busy hotspot, be sure to make a reservation for your visit.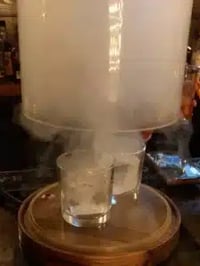 Neat Bourbon Bar
Specializing in various bourbons, Neat Bourbon Bar (@neatbourbonbar) is a tucked-away treasure on N. Main, near Mast General Store. Whether you prefer your bourbon neat or in a fancied-up concoction, this place has you covered. Plus, they offer a tempting range of snack options to complement your drink.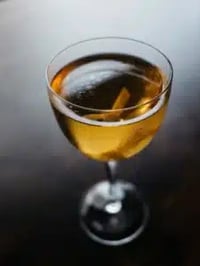 Swordfish Cocktail Club
A speakeasy in disguise, the Swordfish Cocktail Club (@swordfishcocktailclub) is situated on Coffee St. downtown. With top-notch drinks, a great atmosphere, and knowledgeable bartenders, this club can introduce you to your new favorite cocktail.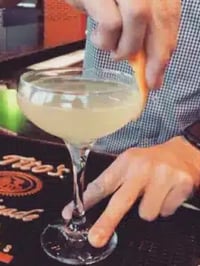 UP on the Roof
Greenville Perched atop the Embassy Suites downtown, UP On The Roof (@upgreenville) offers panoramic city views and an incredible vibe. Hand-crafted cocktails are our favorites here, but they also serve artisan wines, craft beers, and delectable small plates. Enjoy a drink on the patio for the ultimate experience.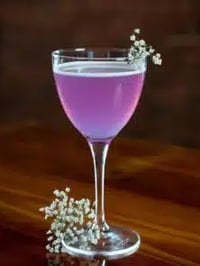 Urban Wren
Discover a hidden gem at Markley Station, the Urban Wren (@urban_wren). This craft cocktail bar doubles as a restaurant, serving spirits and wines alongside fresh food. Presentation is top-notch here, emphasizing the attention to detail and quality ingredients in every glass.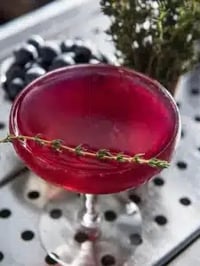 Vault & Vator
Experience Greenville's first and only speakeasy-style modern cocktail lounge at Vault and Vator (@vaultandvatorcocktails). This spot, tucked away on S. Main street, serves hand-crafted libations inspired by The Golden Age of cocktails. Their talented mixologists can whip up an imaginative creation or classic favorite that is sure to impress.
---
Listings From This Post