Scoundrel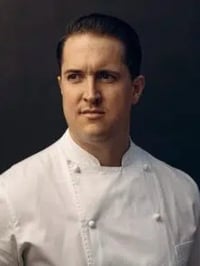 Chef Joe Cash, a Greenville native, began his culinary career as a busboy at the now-closed Lone Star Steakhouse on Congaree Road. While he was wiping down tables and stacking dishes, his eyes were glued to the kitchen. Eventually, he convinced his kitchen manager to get him some shifts in the back of the house, where he imagined he would be running the grill, bent over the flames as he turned out plates of food. Cash went on to attend culinary school at Greenville Tech before working for Table 301 Restaurant Group and later moving to Charleston. But even with Charleston's reputation as a culinary destination, he found it wasn't the actual departure he was looking for. Meanwhile, he'd immersed himself in classic French cookbooks, hoping to explore different creative lanes beyond his Southern roots.

He moved to New York and worked in the kitchen at Per Se, the three-Michelin-star restaurant owned by Chef Thomas Keller, which the New York Times dubbed "the best restaurant in New York City. Cash called NYC home for four years before moving to Copenhagen, Denmark. There, he worked in the kitchen at Noma, the forage-focused restaurant run by chef Rene Redzepi that is the No. 1 restaurant in the world according to The World's 50 Best Restaurants. Later returning to New York and taking over as executive chef at The Pool, the premier restaurant from Major Food Group that occupies the former Four Seasons Restaurant located inside the Seagram Building in midtown Manhattan. This is where chef Joe Cash said he truly developed as a chef and restauranteur.

Now in his mid-3os, Cash's career has taken him around the world before bringing him back home.

Scoundrel: rascal, mischief-maker, life of the party. A scoundrel is disruptive yet charming and effortlessly cool. This exactly characterizes the much-anticipated restaurant concept by Chef Joe Cash, Scoundrel. Scheduled to open their doors at 18 N. Main Street (Suite 100) this fall.

"I want to give people something that's well thought out and extremely well put together, perfectly executed, but also food that's familiar and easily approachable to everyone," Cash said.
Chef Joe Cash's Career Timeline
Chef De Partie
Per Se | New York
Chef De Partie
NOMA Restaurant | Copenhagen, Denmark
Executive Sous Chef
Torrisi Italian Specialties | New York
Executive Chef
The Pool | New York
Head Chef
Scoundrel | Greenville, SC