Patterson's Executive Chef Tanner Marino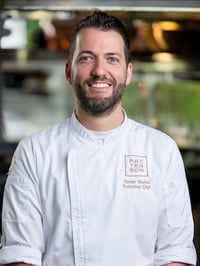 Chef Tanner Marino has spent most of his life in the south. Growing up in a family where the tradition of coming together over a home-cooked meal was cherished, he found himself drawn to the culinary arts during his teenage years. After culinary school, Marino moved to Greenville and kick-started his career at Devereaux's. Under the guidance of Steven Greene and Spencer Thomson at Devereaux's, he climbed the culinary ladder to become Chef de Cuisine of the renowned restaurant. Marino further honed his skills at the Hyatt Regency in Greenville and The Umstead Hotel and Spa in Cary, North Carolina, before returning to Greenville as the executive chef at the Westin Chattanooga.
Currently, Marino holds the position of Executive Chef at Patterson, a fine dining restaurant located in Hotel Hartness in Greenville. The restaurant, which opened in early 2023, showcases Marino's culinary expertise and commitment to offering unique dining experiences. He is also responsible for overseeing the hotel's banquet catering.
"Offering something unique to Greenville and the Hartness Community excited me most about this opportunity," says Marino. "Being able to open Patterson, the first of many concepts on this property, and setting a standard for what's to come, has undoubtedly been a highlight in my career," adds Chef Tanner Marino.