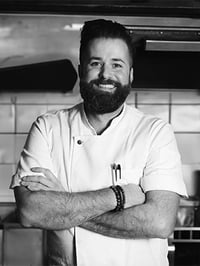 Chef Nico Abello was born in Saclay, France and the path that eventually led him to Greenville, SC is an inspired one. He had no plans to be in the food industry early in life and thought he might be a fireman. At age 15, he took a front-of-house job for a local restaurant and ended up building a close relationship with the head chef. This relationship planted a seed that began his journey to where we are lucky to find him today… a Michelin-starred corporate chef for Table 301.
"My philosophy in the kitchen, or as a chef, is to involve the staff as much as possible. Just because someone is a chef doesn't mean they know everything. Everyone who has worked in a kitchen brings their own experience and knowledge, making collaboration much more fascinating when creating a menu." - Executive Chef Nico Abello
Chef Nico Abello's Career Timeline
Age 15
Worked front-of-house for a local restaurant where he developed a close relationship with the chef who ultimately inspired him to pursue a culinary career.
Apprenticeship Program
Part of an apprenticeship program that placed him in a two-star Michelin restaurant at Versailles under Chef Gérard Vié at Les Trois Marches. During his time at Les Trois Marches, he truly developed his craft and proficiency in french technique and cuisine.
Pierre Gagnaire
Nico spent a year in Pierre Gagnaire's kitchen at Sketch in London.
Around Europe
Chef Nico worked in several other restaurants in Europe
Restaurant Daniel
Chef Nico was presented the opportunity to work at Restaurant Daniel, under the direction of Chef Daniel Boulud. In just 18 months at Daniel, he worked his way up to sous chef of the fish station.
Moved Back to New York
Moved back to New York, where he helped open Le District, a French market in Manhattan. The owners saw potential in the chef and asked him to help open L'Appart in 2016. It earned a Michelin star within six months of opening and has held it since.
Visited Greenville, SC
Chef Nico visited Greenville to participate in a Michelin dinner at Restaurant 17 in 2018, and he fell in love.
The Big Move
Chef Nico's wife and two sons moved to Greenville in October 2021. Chef Nico followed in March of 2022.
Corporate Chef, Table 301
Check out Table 301's Spotlight Dinner Series. One of his first activities at Table 301 is a series of pop-up restaurant experiences featuring a curated chef's tasting menu in The Loft at Soby's.